Our vision of safety development
The serious shaping and improving of safety requires the undivided attention of the organisation. The basic principle here is that the safety level of an organisation is determined by three elements:
Safety culture: leadership, ownership, attitude, behaviour, implicit and explicit assumptions, perceptions and habits within an organisation with regard to dealing with safety risks.
Safety management system: safety policy, organisation, risk management, audits and assessment by the management.
Technical integrity: Well-designed installation systems, surveys, maintenance and inspections must ensure the technical integrity of the installation systems. This element is based on principles of asset management.
figure 1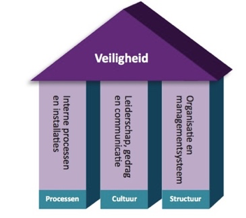 Basic principles regarding to safety
From our vision of safety we are of the opinion that:
safety should be in the genes of the organization and is thereby a change management issue;
behaviour and attitude which are necessary for safety – a discipline of behaviour, alertness, involvement;
focus on continuous learning – will also produce results where quality and other performance indicators are concerned;
safety must therefore not be treated as a 'cost item' but as a vehicle for an overall performance increase.
Vision of improvement
Improving safety is a process where growth stages can be distinguished, each with their own characteristics, challenges and interventions.
Improvement requires a learning organisation. In addition to written rules (vision, strategy, policy, etc.), requires that unwritten rules (mind-set, attitude, habits, etc.) are also in alignment with the safety ambition.
Safety and the improvement thereof demand open communication: on paper, in meetings and. In exemplary behaviour.
Our change program always follows the following phases (base measurement, awareness, learning and reinforcing behavior). In our view, it is important that the solutions are not imposed but have been presented by the employees themselves. In our change approach we use the insights of J.P. Cutter.
Below is a selection of companies we have worked for:
more information: